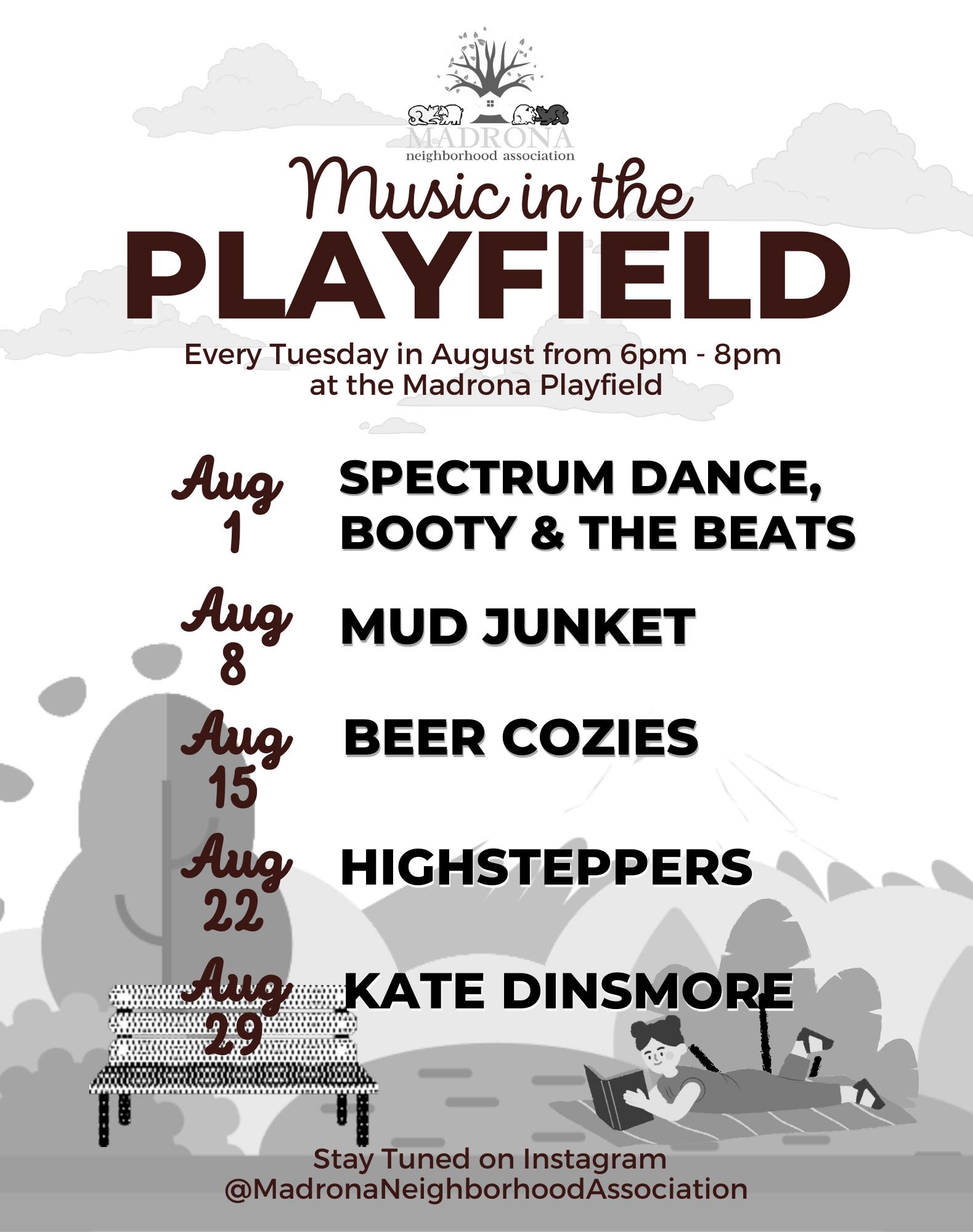 Music in the Playfield Week 3
If you're looking for some fun and free entertainment this summer, look no further than the Madrona Playfield.
Every Tuesday in August, from 6 to 8 pm, you can enjoy live music from local bands at the park's playground. The concert series is sponsored by the Madrona Neighborhood Association and is open to everyone.
The lineup for the concert series features a variety of genres and styles, from dance and funk to rock and folk. Here are the bands and dates for the concert series:
August 1: Spectrum Dance and Booty & The Beats. From the shores of Lake Washington, Spectrum Dance will kick-off our series with dancing followed by Booty & the Beats', a local DJ and favorite from last year.
August 8: Mud Junket. Rock out to some bluesy and soulful songs from one of Madrona's favorite bands.
August 15: Beer Cozies. Relax and enjoy some classic country music from this local Madrona's band first time in our concert series.
August 22: Highsteppers. A ten piece band also making their Madrona debut – they specialize in classic soul and R&B with a full horn section and three female lead singers.
August 29: Kate Dinsmore. A dynamic performer and vocalist, Kate Dinsmore brings her songs to the stage with an undeniable presence. Listen to original songs from this rising americana pop rock band.
The concert series is a great way to support local artists and enjoy the summer evenings with your friends and family. Don't forget to bring your lawn chairs, blankets, snacks, and drinks.
Special thanks to Alyssa Hays for designing our concert promotional materials and to all of our neighborhood sponsors!